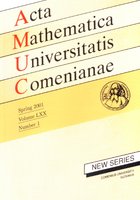 ---







---
---
ACTA MATHEMATICA
UNIVERSITATIS COMENIANAE
---



Technical Notes


Viewing and Printing Adobe Acrobat PDF and Postscript PS Files

To preview and to process PDF - Portable Document Files, your computer needs a recent version of the Adobe Acrobat Reader which is available from http://www.adobe.com . Adobe supports almost all platforms including most UNIX operating systems (including Linux, Sun Solaris, HP UX) and MS Windows. To download Adobe Acrobat reader for a specific operating system click on http://www.adobe.com/prodindex/acrobat/readstep.html

Compressed PostScript files (extension .ps.gz). Postscript files are often very large and therefore they were compressed by using the standard UNIX compression utility gzip. Clicking on "Compressed Postscript" button a compressed postscript file will be downloaded to your machine.
---
Acta Mathematica Universitatis Comenianae
ISSN 0862-9544 &nbsp (Printed edition)

Faculty of Mathematics, Physics and Informatics
Comenius University
842 48 Bratislava, Slovak Republic
Telephone: + 421-2-60295111 Fax: + 421-2-65425882
e-Mail: amuc@fmph.uniba.sk &nbsp&nbsp&nbspInternet: www.iam.fmph.uniba.sk/amuc
---
© 2010, ACTA MATHEMATICA UNIVERSITATIS COMENIANAE