<![if !vml]>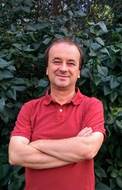 <![endif]>
Address
Department of Applied Mathematics and Statistics, Faculty of Math. and Physics, Comenius University,
Mlynska dolina, 842 48 Bratislava, Slovak republic
email: igor.melichercik@fmph.uniba.sk
Tel: +421-2-60295477
Position
Associate professor at the Department of Applied Mathematics and Statistics, Comenius University.
Education
Ph.D. in Mathematics 1996, Comenius University. Ph.D. Thesis: Asymptotic Behavior of Markov Operators Appearing in Mathematical Models of Theoretical Physics and Biology
PDF
Supervisor: Prof. J. Komornik
Fields of interest
1 Integral Markov Operators
2. Interest Rate Models
3. Pension systems
4. Dynamic Models for Portfolio Management under Uncertainty
Publications
List of publications
Teaching Experience
Teaching assistant at Slovak Technical University, Bratislava, 1993-1996. Lectures on Mathematics.
Teaching assistant at Comenius University since 1998. Lectures on Financial Mathematics.
School of Finance of University of Matej Bel since 2000. Lectures on Financial Mathematics.
Výuka